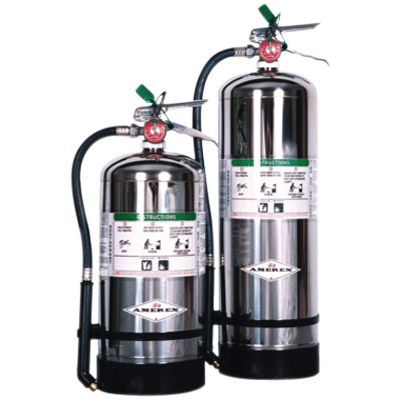 Buying a portable fire extinguisher for your home or office is an important step toward protecting yourself from fire. At Pierson Fire Protection we want to provide you with the most effective fire extinguishers available. Before you buy a fire extinguisher, it is important that you do your research so you can determine the best type of extinguisher for your building.
.•

Class A

extinguishers are for ordinary combustible materials such as paper, wood, cardboard, and most plastics. The numerical rating on these types of extinguishers indicates the amount of water it holds and the amount of fire it can extinguish. Geometric symbol (green triangle)

•

Class B

fires involve flammable or combustible liquids such as gasoline, kerosene, grease and oil. The numerical rating for class B extinguishers indicates the approximate number of square feet of fire it can extinguish. Geometric symbol (red square)

•

Class C

fires involve electrical equipment, such as appliances, wiring, circuit breakers and outlets. Never use water to extinguish class C fires - the risk of electrical shock is far too great! Class C extinguishers do not have a numerical rating. The C classification means the extinguishing agent is non-conductive. Geometric symbol (blue circle)

•

Class D

fire extinguishers are commonly found in a chemical laboratory. They are for fires that involve combustible metals, such as magnesium, titanium, potassium and sodium. These types of extinguishers also have no numerical rating, nor are they given a multi-purpose rating - they are designed for class D fires only. Geometric symbol (Yellow Decagon) •



Class K

fire extinguishers are for fires that involve cooking oils, trans-fats, or fats in cooking appliances and are typically found in restaurant and cafeteria kitchens. Geometric symbol (black hexagon)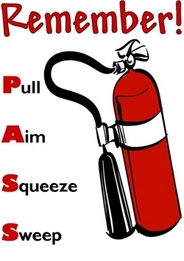 We Sell, Service, Install, and Maintain all makes and models of Fire Extinguishers all over the state. Our same-day, on-site mobile recharging and inspection service reduces fire extinguisher down-time. This eliminates costly disruptions to your business and ensures you have maximum protection at all times.

Call us for a free quote for all your fire extinguisher needs.